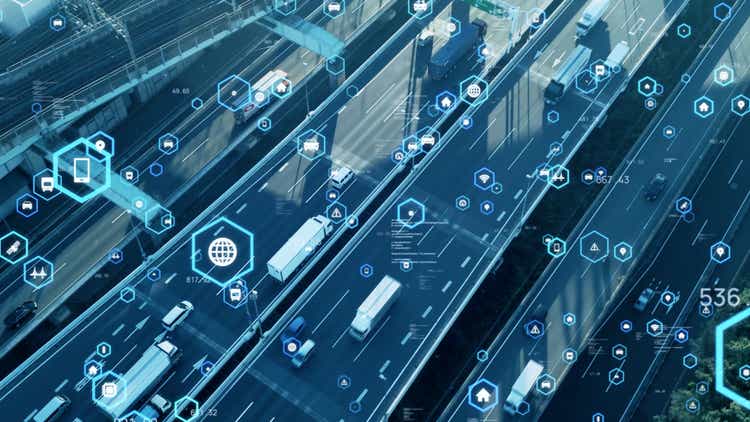 Progress Software: Unconventional, Yet Powerful (NASDAQ: PRGS)
For several years now, the world of tech investing has been dominated by momentum: what are the latest and flashiest stocks? Which have been covered the most in the financial media, and which stocks are generating the most buzz on traders' social media?
However, 2022 has shaken up technology investment. All of the "obvious" growth players have lost sizable sums this year, and with much of the market prioritizing safety and value over growth, it behooves investors to look into some unconventional names to stay exposed to the technology sector.
Progress software (NASDAQ: PRGS) is nothing if not unconventional. It's a stock few have heard of, despite the company looking to generate north of $600 million in annual revenue this year – far more than most high-growth tech stocks that investors are familiar with. On the technical side, Progress operates a portfolio of backend infrastructure tools – helping software developers design their user interface, test performance, and build applications on an agile platform. The catch here is that, unlike most tech companies, Progress Software invests very little in R&D, and management focuses its attention on acquiring other companies and operating them.
Year-to-date, Progress Software shares are down -5%, beating the broader market and significantly outperforming most other software stocks: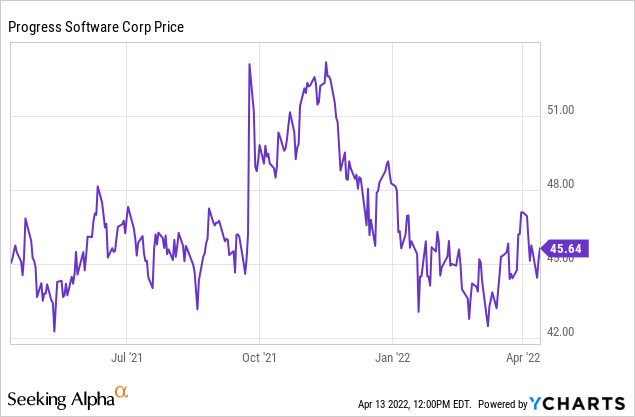 Although growth via mergers and acquisitions is a very atypical strategy that I tend to look down on when it comes to other software companies, Progress Software is an exception. It has built a large ARR base in addition to strong operating margins, and the company is a reliable profit generator. It aims to double its turnover every five years, while acquiring targets that generate profits. The companies it acquires tend to all fall into the infrastructure software category, and so Progress Software operates a unified brand and theme where customers can be sold across various portfolio products.
Progress' most recent acquisition is a company called Kemp, which it is in the process of integrating. Kemp is a software "load balancing" tool – responsible for distributing traffic in a network for optimal performance. Although also a relatively unknown entity, Kemp is surprisingly a supplier to some of the most important companies in the world, including Amazon (AMZN), Audi and NASA (yes, the federal agency).
Here is a short list of all the reasons to be optimistic about Progress Software:
Very disciplined M&A approach. Progress doesn't just buy every company under the sun: it has specific criteria, including selecting only infrastructure software companies that have a strong ARR base and strong customer loyalty. . Take Kemp, for example: Kemp brings $70 million in annual revenue to the table and $40 million in ARR. The purchase price is only $258 million, a multiple of about 3.7 times revenue. It's cheaper than virtually any publicly traded software company.
Focus on profit. In addition to recurring revenue, Progress Software also focuses on net income. Its typical acquisition targets should be able to contribute to the company's overall goal of over 40% pro forma operating margins, which is well above most competing software.
Cheap valuation. As of now, Progress Software has updated its earnings outlook for the year to $4.01-$4.09 in pro forma EPS. Amid this outlook, Progress's current stock price of around $46 is just a 11.2x front P/E multiple – which is good business for a company that intends to double its revenue every five years, even if most of that growth will come inorganically. As long as Progress can maintain its operating margins above 40%, there's plenty of earnings leverage to be had here.
Along with its first quarter results that the company released in late March (which we'll discuss in detail in the next section), Progress also improved its outlook for the full year. It is now on track for $609-617 million in revenue, 9-11% year-on-year growth, and $0.05 higher EPS at the midpoint, alongside an increase of 50 basis points of the pro forma operating margin forecast.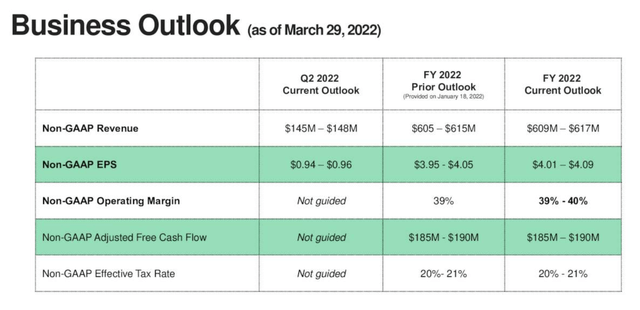 The essentials here on Progress Software: it may not look like other tech stocks, but I think it's hard to argue with Progress' strong execution alongside its modest valuation. Stay here for a long time and keep riding the rising wave of this title.
Download Q1
Progress Software released first-quarter results for its February quarter (the company has an unconventional November year-end) in late March. Let's review the main win highlights: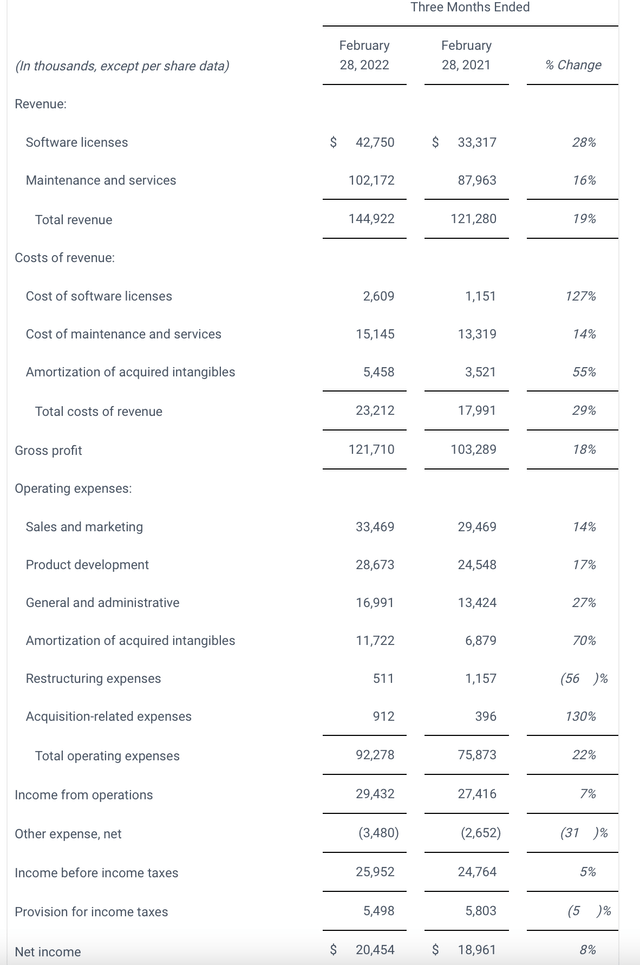 Progress revenue in the quarter was $144.9 million (+19% y/y), beating Wall Street expectations of $139.1 million (+15% y/y). a) with a margin of four points. The advancements themselves also only guided $136 million to $139 million in revenue for the quarter. Most of the growth was driven by Kemp, which the company had been integrating for four months before the end of the quarter.
ARR in the quarter increased 3.5% year-on-year on an organic basis to $479 million, with Kemp's ARR included in both the current year and last year periods. 'last year ; on a reported basis, ARR growth was 12.4% year-over-year. Net revenue retention rates in the quarter were 100.2%, indicating that upselling very slightly exceeded churn in the quarter.
Progress noted that demand was "strong across the board" for all of its products, with good execution across all regions as well. The company noted that its exposure to geopolitical tension in Russia/Ukraine is minimal, although it has also halted all operations in the region.
Of course, the growth of Progress comes first and foremost through mergers and acquisitions. Two things are currently working in the company's favour: first, falling stock prices have made many deals more attractive; and second, despite rising rates, Progress noted that it was able to refinance much of its debt at a fixed rate of 1%, thereby reducing its interest rate exposure.
Here are some helpful comments from CEO Yogesh Gupta's prepared remarks on the first quarter earnings call, detailing his views on the current M&A landscape:
Let's now turn to our total growth strategy and our prospects for mergers and acquisitions. Mergers and acquisitions is another area where Progress sees soaring inflation and the recent decline in capital markets as an advantage. We've mentioned in the past that rising interest rates could put Progress in a more competitive position in the deal market. Other players are less likely to use leverage as heavily in a higher interest rate environment.

We are seeing some signs of a more promising M&A environment. Infrastructure software companies in our target area are looking for alternatives to public market exits or private funding strategies. At the same time, potential competitors who were once much more aggressive when silver was cheaper are becoming more cautious. Therefore, we expect our disciplined approach to bear more fruit in the future. Our radar range remains well stocked with many possible targets, and we work daily to screen a growing number of quality acquisition candidates.

Progress remains well capitalized due to our strong and predictable cash flow, strong balance sheet and sufficient capacity to fund potential transactions. As we announced in January, we have refinanced our existing credit facilities on a very favorable basis, with more than half of our current debt fixed at 1%. »
Pro forma operating margins declined slightly in the quarter to 39.8% from 43.0% in the prior year quarter. The decrease is mainly due to the absorption of Kemp's expense base (although Kemp is profitable, its index is slightly lower than Progress as a whole), as well as higher compensation costs in the current economic environment. wage inflation. That being said, the company continues to pursue cost synergies with Kemp and continues to expect a pro forma operating margin of over 40% in the future, which is well above most software competitors. . The company's pro forma EPS in the quarter also rose 2% year-on-year to $0.97, beating Wall Street expectations of $0.85 with a 14% rise.
Key points to remember
It's worth "thinking outside the box" and building up a small position in Progress Software. This is a company that has managed to generate substantial revenue and margin growth through a series of well-executed acquisitions. Stay a long time here.