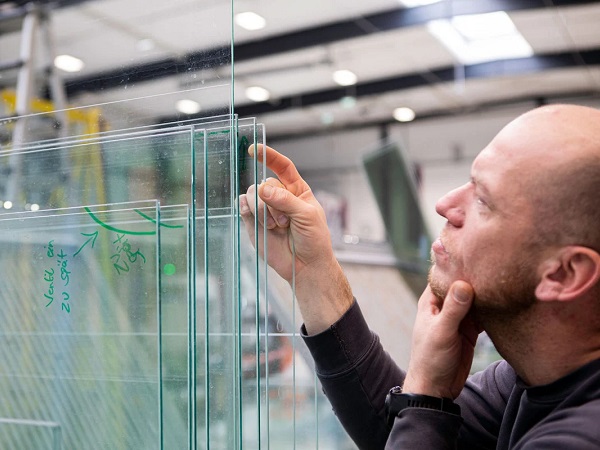 Save time, money and stress with the right vertical glass edge treatment
The quality and processing of the glass edge are extremely important, as they have a decisive influence on the strength – and therefore also on the service life – of the glass.
CORRECT TREATMENT OF GLASS EDGES IS ESSENTIAL
Processing the glass edges of shaped sheets is a very complex process, which requires great expertise and the use of the right tools or machines. It is only possible to produce high-quality finished products that end customers will appreciate for a long time through a treatment of the glass edges adapted to the respective application.
In addition, due to its physical properties (such as its high weight, its fragility and the possible tensions of the material), the glass tends to break in the event of defects on the edge of the glass – in particular due to poor handling or stress caused by heat or wind loads. Professional processing of glass edges significantly reduces this risk and in turn has a very positive effect on work safety and possible after-sales costs. In addition, it can also offer a decisive reduction in wear costs during subsequent processing steps, since a smooth edge not only makes transport safer, but also protects transport equipment such as rollers and belts.
WHAT YOU NEED TO KNOW ABOUT GLASS EDGE TREATMENT
State-of-the-art machinery is used for glass processing, as well as abrasive belts or grinding wheels made with corundum or diamond.
Crimping is the simplest method of processing the edges of cut glass, in which the edge is more or less broken by means of a grinding tool in order to largely eliminate overbreaks and underbreaks, as well as micro-cracks. The edge then has a beveled edge. Edges are primarily crimped for the production of partially tempered or tempered safety glass, to prepare the glass for the tempering process or a toughening system. But this kind of glass edge processing is also used for insulating glass sheets, the glass edges will not be visible when installed.
Grinding is another method of processing glass edges, and is also called glass edge trimming. We also refer to dimensional grinding as fine tuning. During this process, the glass sheets are ground to size with material removal, after which they have a finely structured edge. This type of glass edge treatment is used, for example, for glazing in buildings where the edges will be visible as well as for interior applications.
Polishing is the highest quality glass edge processing method; it is the finest form of treatment and it gives very smooth and transparent results. Polished glass edges are mainly used when the glass sheets are intended for decorative purposes, for example for mirrors or table tops. The edge of the glass is optically transparent and has a very fine and homogeneous polish.
THE DIFFERENT GLASS EDGES
Completely untreated glass edges have jagged, pointed edges with slight wavy lines (also called Wallner's lines) in the edge areas. In addition, there are the finest micro-cracks, which can sometimes lead to glass breakage under load. For this reason, glass sheets with unfinished edges are basically only used if they are in a frame.
SEALED GLASS EDGES (KGS)
The seam eliminates the sharp ridge on the edge of the lens and creates an angular transition between the edge and the lens surface. Glass sheets with sewn edges are mainly used for windows, because the treatment significantly reduces the risk of injury when installing the glass sheets. However, it also significantly reduces the risk of breakage resulting from mechanical or thermal stress, for example during hardening.
Typical Applications of Crimped Glass Edges:
Insulating glass
Partially tempered glass sheet
Architectural glass
shimmer
RAW EDGE (KMG)
We refer to a rough cut edge if significant irregularities are ground after crimping, with bare areas and conchoidal fractures permitted as long as the final dimension is correct.
Typical Rough Edge Product Applications:
Insulating glass
Partially tempered glass sheet
Architectural glass
shimmer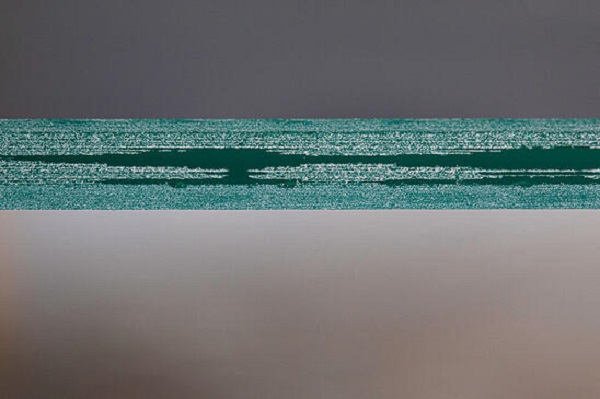 GROUND EDGES (KGN)
The crimped glass edges are processed over the entire surface by means of grinding here, in order to eliminate overruns and gaps. This brings the glass sheet precisely to the required (installation) dimension and compensates for manufacturing tolerances. This form of processing step results in a matte ground edge surface with stitched edges. Grinding optimizes physical and optical quality and reduces the risk of breakage.
Typical product applications for ground edges:
Exterior architecture including LSG (façade and roof structures)
Interior design including LSG
Photovoltaic
Automobile industry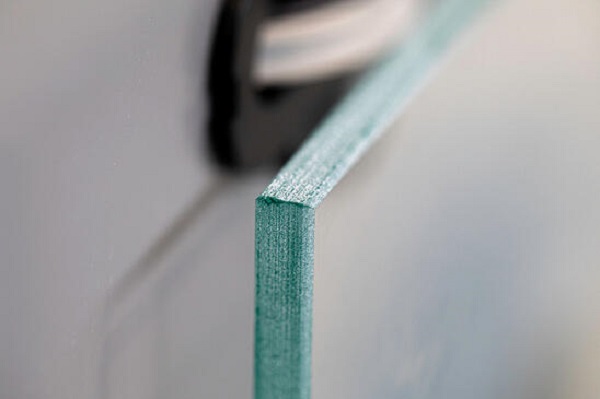 POLISHED EDGE (KPO)
Polishing further refines the ground edges, giving them a shiny surface. Grind marks are permitted, although they must not be dull. Glass edge polishing is mainly performed if there is a need for the finished glass sheets to be of the highest optical quality. The edge can be further refined by a so-called faceted cut, thanks to which it is possible to achieve interesting optical effects through light reflections.
Typical applications for polished edge products:
Interior design including LSG (balustrades, stair railings, stairs, glass panels, glass shower doors and screens, room layouts, kitchen units, etc.)
furniture industry
One-piece fire protection
WATERJET CUTTING EDGE (KGNW)
Glass edges can also be treated over the entire surface by means of a water jet. This also results in a matte ground edge appearance. This method makes it easy to cut glass from glass sheets in almost any variant without the need to change tools.
Typical product applications for waterjet cut edges:
Exterior architecture including LSG (façade and roof structures)
Interior design including LSG
fire resistant glass
bulletproof multilaminate LSG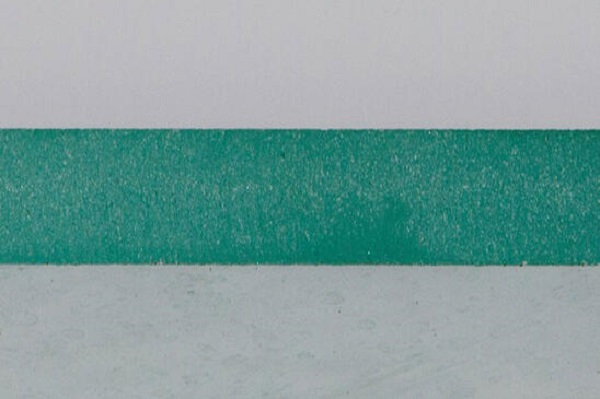 THE RIGHT MACHINE FOR OPTIMAL PROCESSING OF GLASS EDGES
A distinction is also made between straight edges, beveled edges, C-edges (round edges), faceted edges, etc. With all this variety, the choice of method and installation or machine is of course also extremely important when it comes to achieving the best possible results.
As a leading manufacturer of glass processing machinery and producer of insulating glass, LiSEC has been developing equipment, software and services for the efficient and high-quality processing of flat glass for the glass industry for more than 60 years. construction. To ensure a production that is both homogeneous and safe, LiSEC relies on a vertical processing line for the processing of the edges and the interior of flat glass sheets: the in-house products KSR, KSD, EPS and SplitFin! These DIN 1249 certified systems are ideally suited for the respective edge processing operations.
VERTICAL GLASS EDGE PROCESSING SYSTEMS AT A GLANCE
Glass edge stapling – KSR: LiSEC's compact fully automatic vertical orientation sander KSR trims the edges of glass sheets on all four sides – and it does this with the simultaneous aid of the 360° rotating grinding device and the diamond-tipped wet grinding wheel belts on the front and back of the glass edge. Due to the vertical design, cycle times are significantly shorter than with horizontal systems and particularly long service lives of abrasive materials are achieved.
Glass edge grinding – KSD-A: The KSD-A crimping and edge grinding machine also offers the advantages of the vertical design and is additionally equipped with the innovative LiTEC Slider technology. The KSD-A is currently the most flexible crimping and grinding machine available, combining massive flexibility in processing with stable and reliable process execution, as well as very high quality for shapes and rectangles.
Glass Edge Polishing – EPS-B & MRX-B: This edge processing system is divided into two processing towers, the first (EPS-B) performing full edge processing and the second (MRX-B) taking responsible for all internal processing. The two stations together form the LiSEC SplitFin, which is currently the fastest vertical processing line on the market.
The advantages at a glance:
High productivity and therefore high return on investment
Significantly reduced processing cycle time
Flexible setup
Easy to use and maintain
Autopilot for processing
Final polishing without tool change
Integration of a second system is possible at any time
THE ALL-IN-ONE SOLUTION FOR ALL GLASS EDGE PROCESSORS
The SplitFin is also an all-in-one solution for grinding, polishing and cutting, and therefore simplifies a large part of intralogistics – a very tricky issue in glass processing in particular. Every process required to manufacture a shower enclosure or a glass partition with cutouts is possible in the shortest cycle time on one system with the LiSEC SplitFin. Thanks to its modular construction, the SplitFin facilitates the production of drilled holes, countersinks and ground blanks and has ten tool change positions on the front and rear sides respectively.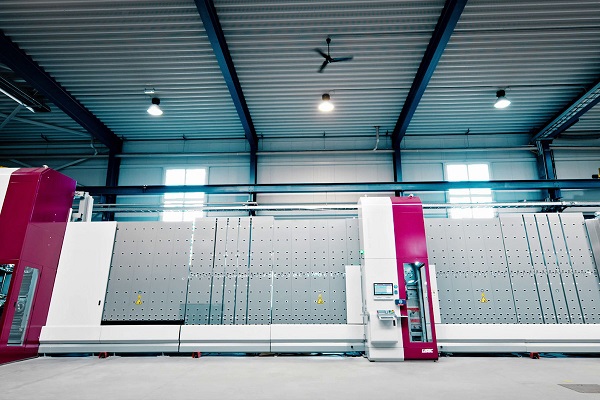 As such, the SplitFin is designed for all glass processors who need a professional and fast solution with very high sales volumes indoors and outdoors. With regard to production costs in particular, the vertical orientation of the LiSEC SplitFin offers a huge advantage over all horizontal systems.
While horizontal systems work with up to 34 spindles – all of which need to be readjusted and fitted with different tools for each glass thickness – the SplitFin works with 1-2 spindles. This saves considerable time during production, while significantly reducing maintenance costs. In addition, LiSEC's vertical system requires much less space.
CONCLUSION
Achieving optimum quality in the processing of flat glass, combined with reduced costs, requires the use of different methods of processing the edges of the glass. The edges of the glass should be treated individually and the appropriate system and method should be used, depending on the area of ​​application. These parameters also have a major impact on the efficiency and cost of production.