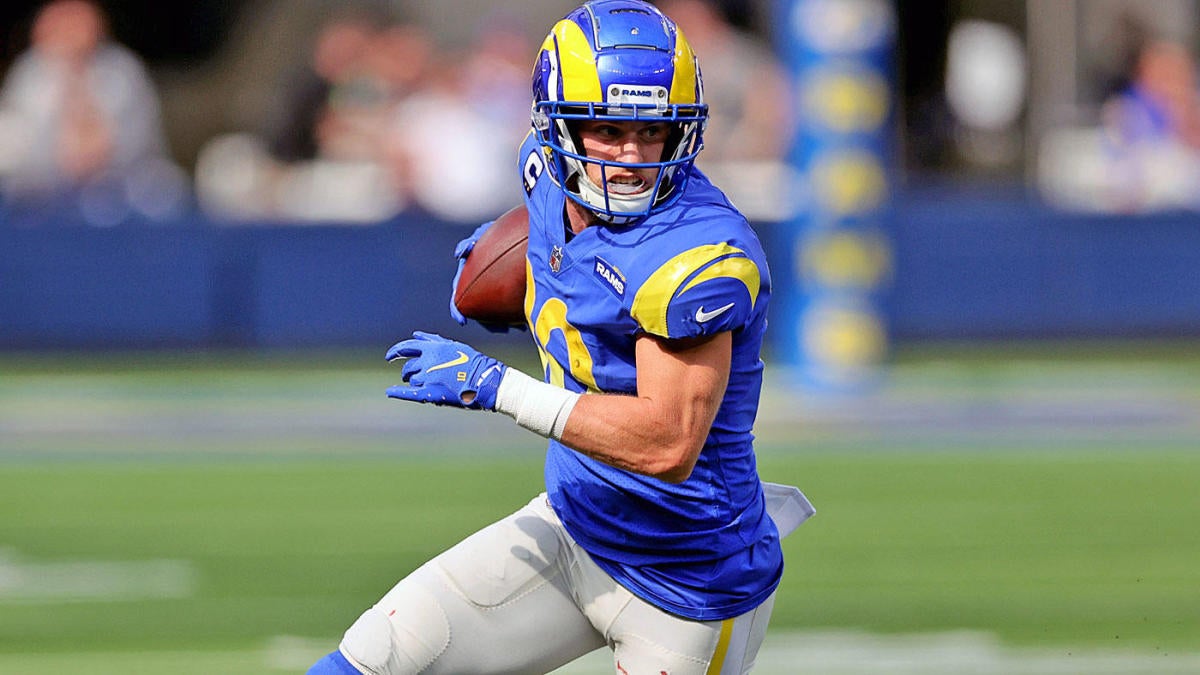 Fantasy Football Week 15: Non-PPR Cheat Sheet to Help You Get the Most Out of Your Starting Line-ups
[ad_1]
Getty Images
The Lineup Cheat Sheet combines fantasy analysis and game flow predictions with a confidence scale to give you a definitive answer on who to start in your leagues.
It's pretty straightforward: the scale goes from 1 to 10. The higher the number next to a player's name, the more confident you should be to start it. The numbers are not a projection, just a confidence score to help you decide who to start with. All of the relevant players for this week are here, so if a player isn't listed, don't launch them.
To find a specific player, use your search function – CTRL-F on PC and Command-F on Mac. If neither of these options are available, or if you are using a mobile device, you can scroll by game.
If you are always unsure, just send a note on Twitter (@daverichard) and I'll take a look, if time permits.
Ready to get started on the right foot? Here's how to tackle each game of this week in the non-PPR leagues – you can find our PPR cheat sheet here.
More from this week: Start 'Em & Sit' Em | Starts, sits, sleeps and does busts | RB preview | QB preview | WR preview | Preview TE | Commercial values | Cutting list |
All lines from Caesars Sportsbook.
| | | | | |
| --- | --- | --- | --- | --- |
| Chefs | RTG (MAX 10) | Chargers | RTG (MAX 10) | |
| Patrick muhammad | (8.2) | Justin herbert | (8.8) | |
| Clyde Edwards-Helaire | (8.8) | Austin Ekeler | (9.5) | |
| Darrel williams | (5.3) | Keenan Allen | (9.3) | |
| Tyreek Hill | (8.5) | Mike williams | (7.4) | |
| Travis Kelce | (8.3) | Jalen guyton | (4.7) | |
| DST Chiefs | (5.1) | Jared cook | (4.6) | |
| | | DST chargers | (5.9) | |
| | | | | |
| --- | --- | --- | --- | --- |
| Raiders | RTG (MAX 10) | brown | RTG (MAX 10) | |
| Derek carr | (5.0) | Nick mullens | (3.2) | |
| Josh jacobs | (9.0) | Nick chubb | (9.1) | |
| Renfrow Hunter | (8.0) | By Ernest Johnson | (5.0) | |
| DeSean Jackson | (2.7) | Donovan Peoples-Jones | (6.2) | |
| Raiders DST | (6.1) | David njoku | (6.9) | |
| | | Browns DST | (6.5) | |
| | | | | |
| --- | --- | --- | --- | --- |
| Patriots | RTG (MAX 10) | Foals | RTG (MAX 10) | |
| Mac Jones | (5.2) | Carson Wentz | (5.8) | |
| Rhamondre Stevenson | (7.5) | Jonathan taylor | (9.8) | |
| Jakobi Meyers | (4.0) | Michael pittman | (6.7) | |
| Kendrick bourne | (4.4) | Ty hilton | (2.6) | |
| Nelson agholor | (3.4) | Jack doyle | (5.6) | |
| Hunter Henri | (6.5) | Colts DST | (4.3) | |
| Patriots DST | (7.3) | | | |
| | | | | |
| --- | --- | --- | --- | --- |
| Panthers | RTG (MAX 10) | Invoices | RTG (MAX 10) | |
| Cam Newton | (2.0) | Josh allen | (9.3) | |
| Chuba hubbard | (6.3) | Devin Singletary | (5.9) | |
| Dj moore | (7.2) | Stefon Diggs | (9.5) | |
| Robby anderson | (5.1) | Gabriel Davis | (6.3) | |
| Panthers DST | (3.5) | Cole beasley | (4.1) | |
| | | Dawson knox | (7.3) | |
| | | DST invoices | (8.5) | |
| | | | | |
| --- | --- | --- | --- | --- |
| Cardinals | RTG (MAX 10) | the Lions | RTG (MAX 10) | |
| Kyler murray | (8.5) | Jared goff | (3.0) | |
| James conner | (8.5) | Craig reynolds | (6.2) | |
| AJ Green | (7.1) | Amon-Ra St. Brown | (5.8) | |
| Christian kirk | (6.6) | Josh reynolds | (4.8) | |
| Rondale Moore | (3.6) | Kalif Raymond | (3.9) | |
| Zach Ertz | (7.2) | Lions summer time | (1.8) | |
| DST Cardinals | (8.9) | | | |
| | | | | |
| --- | --- | --- | --- | --- |
| Texans | RTG (MAX 10) | Jaguars | RTG (MAX 10) | |
| Davis Mills | (4.6) | Trevor Laurent | (4.0) | |
| Royce Freeman | (4.8) | James robinson | (8.7) | |
| Brandin cooks | (7.9) | Laquon Treadwell | (4.5) | |
| Nico collins | (5.2) | Marvin jones | (5.3) | |
| Brevin Jordan | (5.4) | Laviska Shenault Jr. | (1.9) | |
| Texans DST | (4.9) | Jaguar DST | (3.6) | |
| | | | | |
| --- | --- | --- | --- | --- |
| Jets | RTG (MAX 10) | dolphins | RTG (MAX 10) | |
| Zach Wilson | (2.8) | Tua Tagovailoa | (7.5) | |
| Michael carter | (6.7) | Myles Gaskin | (7.3) | |
| Ty johnson | (4.6) | In front of Parker | (7.0) | |
| Jamison crowder | (4.6) | Albert Wilson | (2.0) | |
| Braxton Berrios | (3.7) | Mack hollin | (3.2) | |
| Keelan cole | (2.1) | Mike Gesicki | (7.5) | |
| DST Jets | (2.2) | Dolphins DST | (8.4) | |
| | | | | |
| --- | --- | --- | --- | --- |
| cowboys | RTG (MAX 10) | giants | RTG (MAX 10) | |
| Dak prescott | (7.7) | Mike glennon | (4.4) | |
| Ezekiel Elliott | (6.85) | Saquon Barkley | (7.9) | |
| CeeDee Lamb | (9.1) | Sterling shepard | (4.9) | |
| Amari Cooper | (7.7) | Kenny golladay | (4.2) | |
| Michael gallup | (6.0) | Darius slayton | (2.3) | |
| Dalton schultz | (4.4) | Evan engram | (3.8) | |
| Cowboys DST | (8.1) | DST Giants | (3.7) | |
| | | | | |
| --- | --- | --- | --- | --- |
| Washington | RTG (MAX 10) | Philadelphia cream | RTG (MAX 10) | |
| Garret gilbert | (1.0) | Jalen hurts | (6.8) | |
| Antonio gibson | (7.1) | Miles sanders | (7.25) | |
| ByAndre Carter | (2.9) | Jordan howard | (6.6) | |
| Ricky Seals-Jones | (5.7) | DeVonta Smith | (5.7) | |
| Washington Daylight Saving Time | (3.9) | Dallas goedert | (7.8) | |
| | | Eagles DST | (7.1) | |
| | | | | |
| --- | --- | --- | --- | --- |
| Titans | RTG (MAX 10) | Steelers | RTG (MAX 10) | |
| Ryan tannehill | (4.8) | Ben roethlisberger | (7.3) | |
| Foreman of Onta | (7.15) | Najee harris | (8.9) | |
| Dontrell Hilliard | (4.7) | Diontae johnson | (9.6) | |
| Julio Jones | (5.5) | Chase claypool | (6.8) | |
| Nick westbrook | (3.3) | James washington | (3.5) | |
| Titans DST | (5.3) | Ray-ray mccloud | (2.2) | |
| | | Pat Freiermuth | (7.0) | |
| | | Steelers DST | (7.5) | |
| | | | | |
| --- | --- | --- | --- | --- |
| Bengals | RTG (MAX 10) | Broncos | RTG (MAX 10) | |
| Joe terrier | (6.6) | Teddy bridgewater | (4.2) | |
| Joe mixon | (7.8) | Javonte williams | (7.35) | |
| Higgins T-shirt | (8.4) | Melvin gordon | (7.2) | |
| Ja'Marr Chase | (8.3) | Jerry Jeudy | (5.4) | |
| Tyler boyd | (5.0) | Courtland sutton | (2.5) | |
| CJ Ouzomah | (5.0) | Noah Fan | (5.9) | |
| Bengals DST | (5.7) | Albert Okwuegbunam | (4.8) | |
| | | Broncos DST | (6.7) | |
| | | | | |
| --- | --- | --- | --- | --- |
| Falcons | RTG (MAX 10) | 49ers | RTG (MAX 10) | |
| Matt ryan | (5.4) | Jimmy garoppolo | (6.0) | |
| Cordarrelle Patterson | (8.1) | Jeff Wilson | (6.0) | |
| Mike davis | (5.8) | Deebo Samuel | (8.6) | |
| Russell gage | (5.6) | Brandon Aïyuk | (7.5) | |
| Kyle pitts | (7.1) | George kittle | (9.5) | |
| Hayden hurst | (4.2) | 49ers DST | (6.9) | |
| Falcons DST | (4.1) | | | |
| | | | | |
| --- | --- | --- | --- | --- |
| Packers | RTG (MAX 10) | Ravens | RTG (MAX 10) | |
| Aaron Rodgers | (9.4) | Lamar jackson | (6.8) | |
| Aaron Jones | (7.4) | Devonta Freeman | (6.8) | |
| AJ Dillon | (6.9) | Marquise Brown | (7.8) | |
| Davante Adams | (9.8) | Rashod bateman | (5.9) | |
| Allen Lazard | (6.9) | Sammy Watkins | (3.8) | |
| Marquez Valdes-Scantling | (6.1) | Marc Andrews | (8.8) | |
| DST packers | (8.6) | DST Ravens | (4.5) | |
| | | | | |
| --- | --- | --- | --- | --- |
| Seahawks | RTG (MAX 10) | Rams | RTG (MAX 10) | |
| Russell wilson | (6.9) | Matthew Stafford | (8.1) | |
| Rashaad Penny | (7.0) | Sony Michel | (7.6) | |
| DK Metcalf | (7.3) | Cooper Kupp | (9.7) | |
| Gerald Everett | (6.4) | Van jefferson | (7.6) | |
| Seahawks DST | (5.5) | Kendall blanton | (1.1) | |
| | | Rams DST | (7.9) | |
| | | | | |
| --- | --- | --- | --- | --- |
| Saints | RTG (MAX 10) | Buccaneers | RTG (MAX 10) | |
| Taysom Hill | (7.0) | Tom brady | (8.9) | |
| Alvin kamara | (9.3) | Leonard Fournette | (9.2) | |
| Tre'Quan Smith | (3.1) | Chris godwin | (9.0) | |
| Mark Callaway | (2.8) | Mike evans | (8.7) | |
| Nick vannett | (4.0) | Rob gronkowski | (7.7) | |
| Saints DST | (4.7) | DST Buccaneers | (7.7) | |
| | | | | |
| --- | --- | --- | --- | --- |
| Vikings | RTG (MAX 10) | Bear | RTG (MAX 10) | |
| Kirk's cousins | (7.4) | Justin champs | (6.2) | |
| Dalvin cook | (9.9) | David Montgomery | (8.6) | |
| Justin jefferson | (9.9) | Darnell mooney | (6.4) | |
| KJ Osborn | (6.5) | Jakeem grant | (4.3) | |
| Tyler conklin | (5.2) | DST Bear | (2.7) | |
| Vikings DST | (6.3) | | | |

[ad_2]