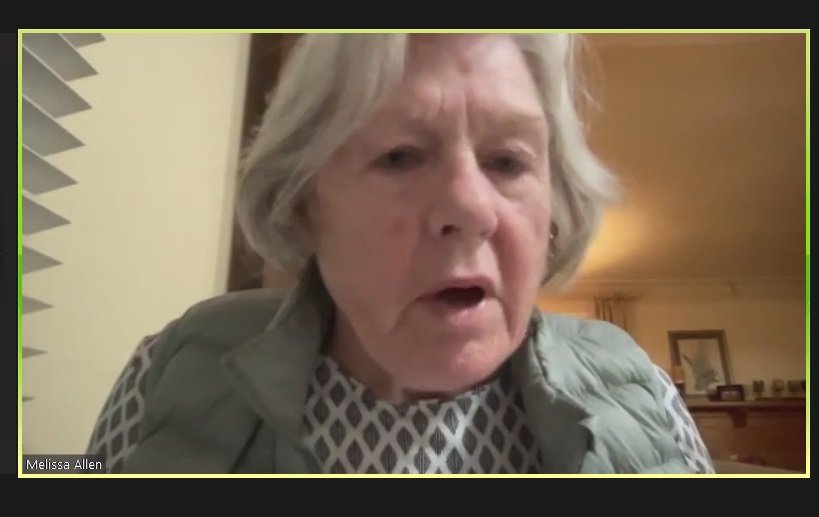 Community members demand prioritization of sidewalk projects
By Lorilyn C. Lirio
Former Bicycle and Pedestrian Advisory Committee Jim Lazar urged Olympia board members to hold a study session with advisory committees and community activists to discuss funding for the city's sidewalks.
Lazar submitted his written comment to City Council, which opened the public hearing for the 2023 Preliminary Capital Plan on Tuesday, October 18.
Four community members participated in the public hearing, asking to include the sidewalk project in the call for proposals.
Lazar discussed the Voted Utilities Tax (VUT) and the programs those funds should fund.
In 2004, according to Olympia's website, voters approved a 3% increase in private STV to fund parks and boardwalk facilities. He added that 1% — about $1 million — of those funds goes to neighborhood sidewalk and trail projects each year.
According to Lazar, Olympia's fact sheet was sent to all residents to explain STV. It lists specific projects to be funded by STV for the period 2004-2025.
He said Fones Road was not included. The project was to be funded through grants and impact fees.
Lazar claimed that the sidewalk portion of the Fones project has grown since then, while the 22nd/Eastside sidewalk, which is included on the map in the fact sheet, has not been built and is not planned for the construction in this call for proposals.
"I am not suggesting abandoning or delaying the Fones Road project. There is no need to jeopardize the grants for this project," Lazar said.
He recommended that the City Council remove STV funding for Fones Road and replace it with $3 million in Transportation Impact Fee funding. "That was the funding mechanism identified when the sidewalk program was drafted and voters embraced STV."
"Removing STV's enforcement at Fones Road will free up $3 million from STV for sidewalk spending that our neighborhoods need and want. This would allow you to do what the public asks and what the public has been promised when we voted in 2004 to have STV used for local sidewalks," Lazar said.
"There is no shortage of revenue options for sidewalks," Lazar commented. "There is a lack of creativity on the part of the City Manager and his staff to bring all possible funding options to Council."
No penny added
Larry Dzieza, chairman of the Council Neighborhood Association (CNA), said the Planning Commission is against passing the CFP unless a review is carried out in the transport sector, particularly pavements. (See the other article today: Olympia Planning Commission: No to adoption of 2023 preliminary capital plan.)
Dzieza expressed frustration when Olympia rejected the commission's suggestion.
"Your staff replied that we should wait because 'it is unrealistic to accomplish the complex task of revising the CFP in such a short period of time'. But you all knew this problem existed for years", said Dzieza, adding that ANC members had been frustrated for years.
He pointed to Olympia's polls reflecting the community's desire to prioritize the sidewalk project. But the city only allocated an $11,000 budget for the sidewalks.
In 2019, Dzieza said, Olympia conducted a survey asking what it should spend if the city found new funding. "The highest response was sidewalks."
As of May of this year, Olympia had $10.2 million in funding available due to higher revenue and salary savings from vacancies.
The city spent $7 million on leadership training, financial software, records management software, staff support for the climate program, workers' compensation fund, and setting aside 3 million dollars for an increased fund balance.
The community leader noted that the town had not spent "a dime on what the public said was its priority."
"Not a penny was added to the $11,000 [fund] sidewalks," he added.
"If you don't listen to your polls, stop spending their money and use it for something useful. Frustration has a cause which is a lack of action. That's what causes frustration. I tell you asks for positive action on the issue of sidewalks, even if it's just a small one-time increase in the budget while we work on a more comprehensive approach, showing that you are acting on what the public," Dzieza told council members.
Redefining sidewalk priorities
Karen Messmer said people have been begging for sidewalks since she joined the Planning Commission in 1995. She said the transport master plan spells out the need for increased investment and support for walking.
"I was particularly frustrated to see staff's response to public comments that they were not recommending changes to the PA. I understand that there are grant guidelines and timelines, but on what are you organizing this public hearing? said Messmer, who participated in the public hearing virtually.
She told council members that they could change the operating and capital budgets. "You're the decision maker. Ask transportation and fundraising staff to spend more on finding internal and external funding for sidewalks and walking."
Messmer, a former council member, also asked the city to restore money from the general fund for sidewalks and move two sidewalk projects into the 2023 construction year from the CFP — including the sidewalks at 22nd and 12th. side is initially planned for 2017.
She cited that the city council has repeatedly reorganized its staff priorities to focus on housing and the COVID-19 response. "You can change the direction and the priorities. It's time to act on the sidewalks."
Melissa Allen asked council members to consider asking Olympia staff to work with neighborhoods to create innovative ways to fix sidewalks.
"I've been dealing with the issue of the neighborhood for over ten years, and we've talked about [sidewalks] From the beginning. So I'm trying to think of less technical ways for the city to demonstrate that they care about these neighborhoods and want people to be able to get around safely," Allen said.